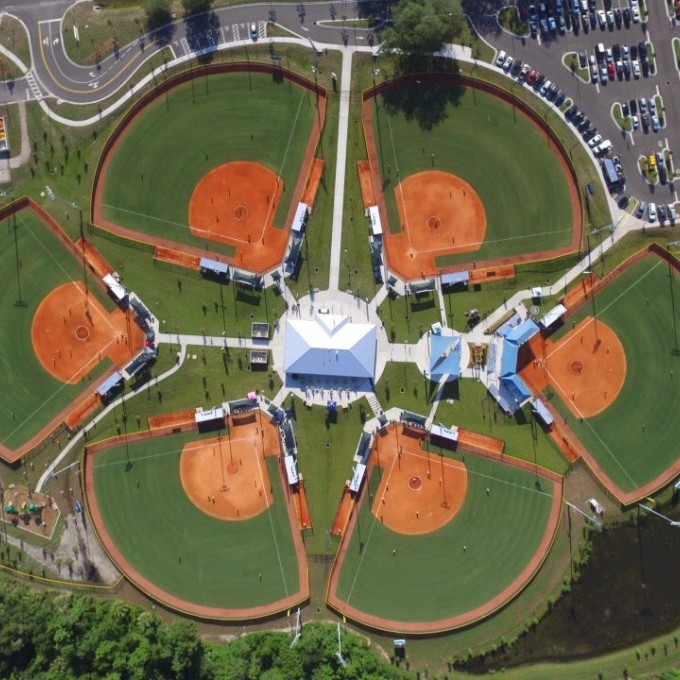 IT'S TIME TO GAME ON! SPORTS FACILITIES REOPEN TO WELCOME YOUTH ATHLETES.
SEMINOLE COUNTY, Fla. (July 2, 2020) — Following months of intense preparations and strict Covid-19-related safety and precautionary guidelines for tournament and event hosts, Orlando North, Seminole County today opened the summer 2020 season for youth and amateur sports, their families and fans. Sports tourism is a leading contributor of overnight visitation and economic impact for Orlando North, Seminole County.
Guidelines include encouraging only immediate family to attend the event and requiring teams to designate a social distance captain or "team parent" to ensure that players, coaches, and spectators are maintaining a safe social distance on and off the field. Importantly, players, coaches and fans are also required to maintain social distancing standards in the dugouts, on benches, in the stands, and throughout other group areas.
More than 450 teams, and hundreds more families, coaches, scouts, from all over Florida and the Southeast are expected to come play ball, watch, have fun and help bring in needed tourism revenue for Seminole County. With county tourism officials remaining hopeful for sports events to rebound in 2020 and 2021, the main focus is providing a safe environment for competitors and spectators alike.
"Last year, sports tourism was one of our biggest success stories, said Danny Trosset, Director of Sports Tourism, Orlando North, Seminole County Sports. "We hosted 110 youth, collegiate and amateur sporting events that filled our five major tournament facilities with youth, collegiate and amateur sports events and generated more than 41,000 hotel room nights and resulted in a substantial economic impact. This year is obviously going to be different, and our primary focus is on the safety of our players, their families and the community – and we look forward to the best possible and safest season for everyone. We want our sports families to count on us year after year as their ultimate sports and family destination."
Last fiscal year, the county's sports events actualized an economic impact of $42.5 million, exceeding the previous year's revenue impact by $2.9+ million. Seminole County Parks hosted everything from the ECNL national soccer events, to the NHFCA woman's national field hockey winter showcase, to the All-American youth baseball and softball games and the NCAA men's and women's DII National Tennis Championships.
The county's top sports tournament venues consist of:
Boombah Sports Complex Seminole County (15 fields)
Boombah Soldiers Creek Park (6 premier girls fast-pitch softball fields)
Sylvan Lake Park (6 soccer fields, 9 tennis courts)
Sanlando Park (25 tennis courts)
Seminole County Softball Complex (5 fields)
Attached is a link to a schedule of sports tournament events for 2020: http://playorlandonorth.com/events. For more information about Seminole County and its game changing sports venues, please call 407-665-2902 or visit www.PlayOrlandoNorth.com
SEMINOLE COUNTY NOTABLE SPORTS NAMES
Due to the great weather and abundance of green fields, parks, and golf courses, Seminole County is a magnet for those loving outdoor action. In particular it has either raised or been called home by numerous athletes across the broad sports spectrum. Here are just a few names that may be familiar to you: Red Barber, Timmy Raines, Blake Bortles, Jason Varitek, Frank Viola, Reggie Branch, Matt Kuchar, Early Wynn, Lee Corso, Willie Mays and Jackie Robinson.
About Orlando North, Seminole County
Teeming with old Florida charm and young Florida vibrancy, Orlando North, Seminole County offers visitors nature-based attractions, eclectic dining, an emerging micro brew scene, plus a year-round calendar of festivals and events. With over 2,000 waterways, you'll discover a wide array of thrilling outdoor activities. From paddling in clear freshwater springs and rivers, to airboating among alligators or zooming through an aerial zip line course. It also features an array of sports and training facilities for amateur tournament play, including the 102-acre Boombah Sports Complex in Sanford. Getting here is easy via Orlando Sanford International Airport (SFB), Orlando International Airport (MCO), aboard the Amtrak Auto Train, or via auto on I-95 and I-4; and you'll save 30% on accommodations over Orlando hotels. All this and it's just a short drive to area theme parks and beaches too. 1-800-800-7832 or 407-665-2900 or visit: